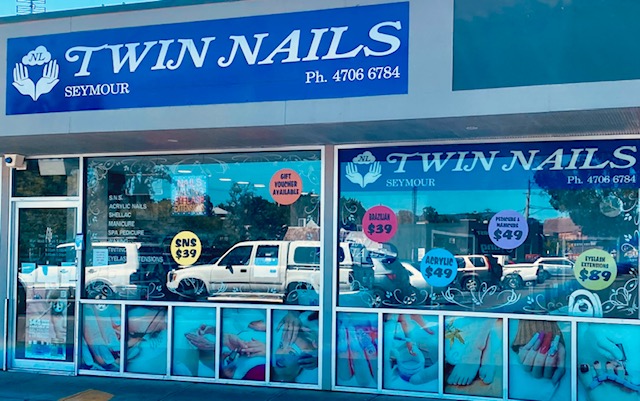 Welcome to Twin Nails SEYMOUR & WHITTLESEA, From your very first visit, you should feel right at home.  All our staffs are kindly and friendly with many years of experience. 
Come to Twin Nails, we bring highest hygiene to you with separate utensils for single customer when you do Spa Pedicure and Manicure. 
We use only the best products available and therefore we are not a budget salon, but we are aware of being price competitive, as you will see in our Brochure.

 Twin Nails WHITTLESEA Trading Hour.
Add: 4/56 Church Street, Whittlesea VIC 3757
Phone: 03 8735 7124
Monday – Wednesday: 9.30 am to 5.30 pm
        Thursday – Friday:         9.30 am to 7.30 pm
        Saturday:                        9.00 am to 5.00 pm
        Sunday:                          CLOSED
Twin Nails SEYMOUR Trading Hour.
Add: 5/20 Tallarook Street, Seymour VIC 3660

Phone: 0347066784
        Monday – Wednesday: 9.30 am to 5.30 pm
        Thursday:                       9.30 am to 7.30 pm
        Friday:                            9.30 am to 5.30 pm
        Saturday:                        9.00 am to 5.00 pm
        Sunday:                          CLOSED
 Thank you for visiting our website. If there's anything you would like to see here or any additional questions you'd like to ask about Twin Nails  please contact us (This email address is being protected from spambots. You need JavaScript enabled to view it.)